QAnon – A Peek Inside the OIG FISA ABUSE Report Coming Soon to a Theater Near YOU!
November 12, 2018  Q Post 2489
Yes, I am dedicating a whole article and video to JUST ONE POST!  Post 2489 provides an inside look into what will be contained inside the OIG Report on FISA Abuse.  The previous few posts provided Anons on 8 chan a roadmap to organizing sections within 8 chan according to topics that will arise and that the public will be looking for information about in the VERY near future.
Q also started a brand new "thread" within the /patriotsfight/ board.  IMHO, this is the start of a new phase.  This happened on 11-09-18 AND the real posting started on 11-11-18!
As I showed in my
last video
, you can still get to the older Posts by clicking directly on the post numbers shown in the github posts that we are used to using:
This will apply to all posts prior to No. 440.
We know we are in a new phase, because of No. 440:
Q has repeated something he did on May 4, 2018, when Q starting posting on /patriotsfight/ :
Note: This picture is also named JUSTICE just as the picture in Post 440, so I have concluded we are in the SAME PHASE but at the NEXT STAGE.
Now, Q is providing an insight into what we can expect from the OIG FISA ABUSE report and some direction to the ANONS for how to organize this information for those seeking information.


NEXT STAGE: JUSTICE: DECLAS and FISA!
Once Again, Q is not only providing guidance to the ANONS for placements on the /qresearch/ board, but he is also providing a sneak peek at what we can look forward to learning:


1. OIG Report & Findings
 The main topic



2. OIG report > FBI, DOJ, & Media Coll 
 Information in the Report about FBI, DOJ and Media Collusion
Any and all provable collusion between FBI and DOJ illegal interaction with the Media. Remember, this is about the FISA ABUSES so this kind of information would include:
Christopher Steel leaking to Buzz Feed, MotherJones, Yahoo and others and then turning around and using these articles as "proof" of the Steel Dossier.
Two pieces of evidence that have come together prove anti-Trump dossier writer Christopher Steele was the key source for a Yahoo News story that the FBI cited to support its wiretap application. Identifying the source of that September 2016 article on Trump campaign volunteer Carter Page has taken on added importance in recent weeks.
The latest string of text messages between disgraced FBI agent Peter Strzok and his in-house paramour Lisa Page appear to show a concerted strategy to leak secret information to The Washington Post and The New York Times. The text messages detailed in a letter from Rep.
Lawyers for ex-Trump campaign chairman Paul Manafort are raising concerns about a 2017 meeting between top law enforcement figures and Associated Press reporters, questioning whether "grand jury secrecy" was violated and revealing memos that say the reporters even offered investigators a "code" pertaining to their client's storage facility.
Again, IMHO, we are just scratching the surface.  Can you imagine the implications of all of this!
#goodbyeMSMfakenews#
3.  OIG report > Exe B_ABCs & Media Coll 
 Information in the Report about EXECUTIVE BRANCH and ABC Agencies, mainly the CIA and DNI *think Brennan and Clapper* Media Collusion.

  
After this Q post, I am beginning to see the leakers more clearly:
And don't forget some of these:
For completeness, the list below includes, in addition to dismissals and resignations, routine job changes such as promotions (e.g. Gina Haspel from CIA Deputy Director to Director), officials moving to a comparable position (e.g. John Kelly from Secretary of Homeland Security to Chief of Staff), and acting or temporary officials being replaced by permanent ones.
4.  OIG report > Foreign ASST_D1 
  Foreign Assistance will be found in the D1 Document = THE FISA APPLICATIONS
D1 – Release from the FBI VAULT?
Q DOUBLE POSTED THIS ONE! IT MUST BE GOOD
Foreign Assistance will be found within the FISA D1 Document, most likely, in the 20 pages that Nunes and Others have been requesting for months! FOREIGN ASSISTANCE with information needed to obtain and RENEW, since the FISA APPS are 4 total for Carter Page.
Administrative Policy Procedures – Anti-War – Bureau Personnel – Civil Rights – Counterterrorism – Foreign Counterintelligence – Frequently Requested – Fugitives – Gangs Extremist Groups – Gangster Era – Miscellaneous – Organizations – Organized Crime – Political Figures Events – Popular Culture – Public Corruption – Supreme Court – Unexplained Phenomenon – World War II – Violent Crime
5. OIG report > Foreign_Insert(s)_ORec & Info Diss

Foreign Inserts, better known as SPIES, Orders Received and Information is Disseminated? This is my best guess. Better made known by Dan Bongino, as the PUSH PULL or IN OUT. The Operative/Spy receives his/their orders and the info is disseminated to the targets to be pulled out later by another Spy/Operative.

Foreign Spies inserted into the Trump campaign will be uncovered in the OIG Fisa Report.
Think Stephan Halper, Mifsud, Millian, Downer, etc.
We know that both Page/Strzok were working with these Operatives:
The Senate on Monday released 500 pages of documents, including text messages between demoted counterintelligence agent Peter Strzok and his paramour former FBI lawyer Lisa Page. One of the formerly redacted texts suggests that the FBI may have been snooping into the Trump campaign way earlier than previously believed.
7. OIG report > FISA Abuse DIR_INDIR_Source_DIS

Direct and Indirect Sources used to promote DISINFORMATION
Think Harry Reid, Adam Shifty, The Gang of 8-Nunes of course, Comey, McCabe, Rosenstein etc..
OH BOY! BIG TROUBLE IN DC!
LET'S GO WHITAKER!!!!!!!!!!!!!!!!!!!!
8. OIG report > Umbrella SPY & Targeting
John Carlin was an Assistant Attorney General – and Head of the Department of Justice's National Security Division (NSD). On September 27, 2016, Carlin announced his resignation. He formally left the NSD on October 15, 2016. Carlin had been named Acting Assistant Attorney General in March 2013…
We identified another [redacted] queries that were performed outside the targeting authorization periods in E.O. 12333 data, which is prohibited by the E.O. 12333 minimization procedures. We also identified queries performed using USP selectors in FAA §702 upstream data, which is prohibited by the FAA §702 minimization procedures.
Downstream collection involves the government acquiring data from the companies providing service to the user – like Google or Facebook.
However, some Section 702 collection is obtained via "upstream" collection.
In simple parlance, upstream collection means the NSA accesses the high capacity fiber optic cables that carry Internet traffic and copies all the data flowing through those cables.
The agency is then supposed to filter out any "wholly domestic" communications that are between Americans located in the U.S.
Data collected "incidentally" on U.S. Citizens is generally not destroyed. It is minimized. As we will see later, this became a problem.
Intelligence Agencies can then search the data using "To", "From" or "About" queries on a target of Section 702 collection.
"About" queries are particularly worrisome.
They occur when the target is neither the sender nor the recipient of the collected communication – but the target's selector, such as an email address, is being passed between two other communicants.
"About" queries were abruptly halted by NSA Director Mike Rogers on October 20, 2016. This was formally announced by the NSA on April 28, 2017


9. OIG report > OTR_C



   OTHER Classified Information that is not covered in the above topics will be DECLAS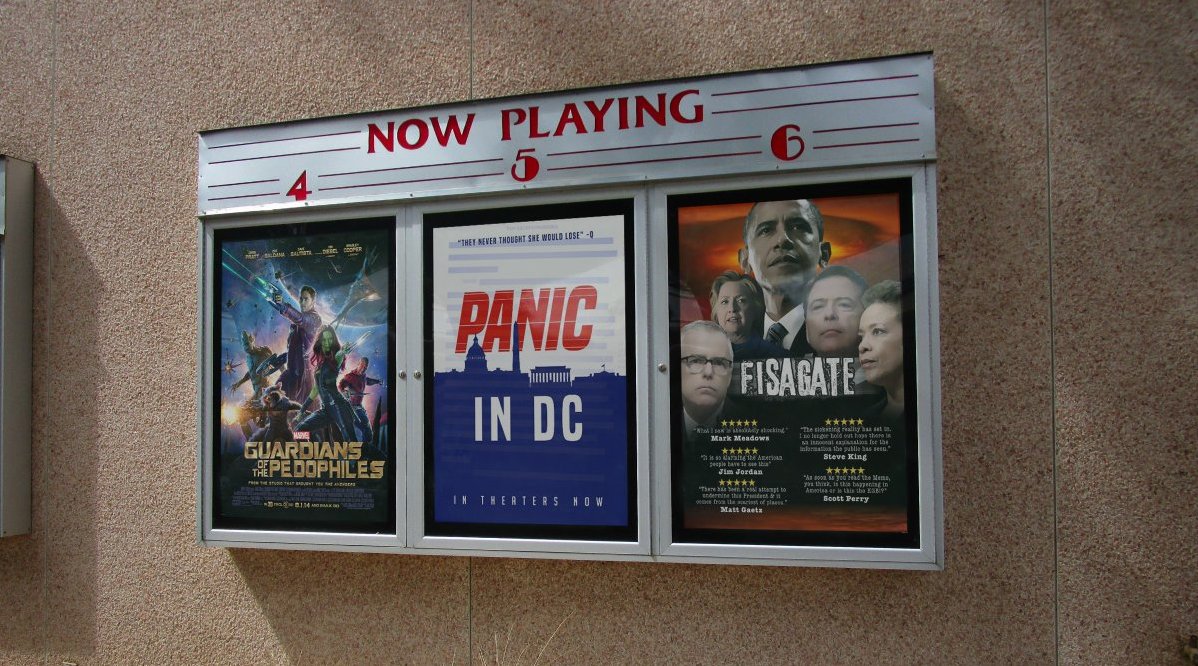 LOVE YOU ALL, and thanks for reading and watching!
If you enjoy my work and would like to support me, here are the links.  Thank you so much to all of my supporters.  WWG1WGA!
Join Patreon for $5 or more per month and get access to my private discord as a reward!